A Sentimental Wish to Help Mayville State Students Becomes a Million Dollar Legacy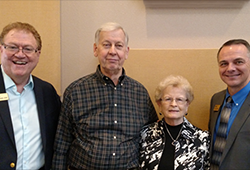 Melanie (Swenson) Noteboom, MSU Class of 1963, and her husband Harvey, a UND graduate, have been thinking about their alma maters for several years and looking for a way to help them with a gift from their estate. "We are both from small towns in North Dakota," said Melanie who grew up in Adams. Harvey is from East Fairview in McKenzie County.
Melanie wanted to attend a smaller college and enrolled at Mayville State in 1960 with the intent of completing a nine-month secretarial course but was convinced by her business professor to stay and complete a teaching degree. She graduated with a degree in Business Education and began teaching in the East Grand Forks school system where she spent the next thirty-five years at the Senior High School and the Red River Valley Vocational Center.
Harvey and Melanie met while teaching in East Grand Forks. After that first year teaching, Harvey spent the next eight years writing and administering grants for two governmental agencies in Crookston, MN. After that he worked the next 24 years in the marketing division of American Greetings Corp. "We both had very successful careers in our fields. We didn't have children and we talked about what we would one day do to leave a legacy, " said Harvey. "Helping students was an appealing idea to us," said Melanie. "We wanted to help both of our universities and other organizations that help others."
Melanie and Harvey retired in 1998 and moved to the Phoenix, AZ area. For the Notebooms, retirement provides a lot of time for various new activities. "Since retiring we have done a lot of traveling and volunteering. Traveling has given us an insight into many different cultures and a better understanding of the world," said Melanie. "We also find it rewarding to volunteer our time helping local seniors." They also are generous to their local food bank and other agencies that assist with people in need. They created an estate plan using a charitable trust that would one day help their colleges and other special agencies.
"Normally, like many folks, our estate plan giving would be proceeds from our estate upon our death," said Harvey. "But then we learned more about the North Dakota Challenge Grant and Mayville State's Executive Director, John Klocke, shared some news on how the Challenge Grant fund had provisions for providing a 50% match on irrevocable gifts pledged to Mayville State. We had already established an endowment fund at MSU and liked the values and affordable education Mayville State provides young people."
Melanie and Harvey are both concerned about the high loan indebtedness that young people are facing and feel scholarships to deserving students is a good way to help. They believe that providing a student with a scholarship will help MSU retain them all the way through to graduation. With that in mind, they had the idea to use an annuity Harvey had that they no longer felt they needed. "We met with John and he submitted the gift pledge to the Challenge Grant committee who approved it, allowing us to make this very special gift, " said Melanie. "We were very pleased and also thankful to the ND legislators who have had the foresight to initiate this novel legislation and funding to build major gift philanthropy in North Dakota to benefit higher education."
The Noteboom's annuity with its $640,000 value qualified for a $320,000 match from the Challenge Fund. Between the match and the future gift in combination with their other gifts to the endowment the gift value total is over one million dollars of current and future funding for their endowment. "We were so thankful to work with Melanie and Harvey on this gift plan and it makes the second one million gift in the history of the MSU Foundation," said John Klocke, Executive Director of the MSU Foundation. This matching rule provided through the challenge grant program is very important to a smaller university like Mayville State.
"We really like the idea that instead of our gift legacy being upon our deaths, the Challenge Grant match allows us to help students now, while we are living," said Melanie. "Harvey and I love to read the letters from the students who receive our scholarships. We would encourage others to consider making gifts of estate assets when Challenge Grant funds are available like we did."
The Notebooms have been pleased to arrange gifts for UND as well through their estate planning. "We would encourage all Mayville State alumni to consider this kind of giving option. John Klocke's experience was invaluable in showing us the different possibilities and this was a great tax idea for us too."
Klocke shares that gifts of annuities, life insurance, land, securities and property through estate plans are often very beneficial to alumni and friends from both an income tax saving perspective and often include benefits of increased retirement income. "The 1889 Society is a special recognition program for our alumni and friends who plan such a gift," said Klocke. "I always encourage those planning such a gift to let us know so that we can keep you apprised of opportunities for matching funds and the like." Klocke said.
While it is not known yet if there will be challenge grant funds available for the 2019-21 biennium, Klocke encourages all alumni to call their state legislators to thank them for their support of this initiative in the past and encourage them to vote on continued funding. "This funding has been critical to Mayville State's endowment growth," said Klocke.
To learn more about current and planned gift opportunities, alumni can call John Klocke at 701-788-4787 and put his 27 years of gift planning to work in support of your individual estate and retirement planning goals to benefit your family and your alma mater.